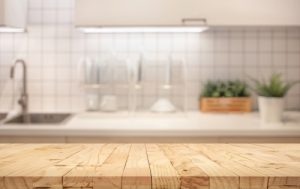 The kitchen is often considered the heart of the home, a space where meals are prepared, conversations take place, and memories are made. When it comes to kitchen design, one element that can truly enhance both the functionality and aesthetics of the space is a kitchen island. Not only does it provide additional workspace, but it also serves as a gathering spot for family and friends. With a variety of options available, choosing the right kitchen island for your home can seem overwhelming. So, let's explore the different types of kitchen islands to help you make an informed decision.
1. Stationary Islands:
Starting with the most common type, stationary islands are fixed in one place and cannot be moved. These islands are ideal for larger kitchens with ample space, as they tend to be more permanent fixtures. Stationary islands offer generous countertop space, perfect for food preparation and serving. Additionally, they often come with built-in cabinets and drawers, providing valuable storage space for kitchen essentials. However, it's essential to carefully plan the placement of a stationary island to ensure it doesn't obstruct the flow of the kitchen.
2. Portable Islands:
If you're looking for versatility and flexibility, a portable island might be the right choice for you. Portable islands, also known as moveable islands, are on wheels, allowing you to easily reposition them based on your needs. This type of island is particularly useful in smaller kitchens where space optimization is crucial. Portable islands often feature lockable wheels, ensuring stability while you work. They also commonly include features such as shelves or hooks for additional storage. However, keep in mind that portable islands may not offer as much countertop space as their stationary counterparts.
3. Peninsula Islands:
Peninsula islands are an ideal option for homeowners who want the benefits of an island without sacrificing too much floor space. This type of island is attached to a wall or counter, extending outward to create an L or U shape. Peninsula islands can serve as a Breakfast Bar or a dining area, providing a casual eating spot in addition to extra workspace. This design seamlessly integrates with your existing kitchen layout, making it a popular choice for those who want to maintain an open concept. Furthermore, it offers easy access to appliances and cabinets, maximizing convenience.
4. Kitchen Carts:
For the ultimate combination of mobility and functionality, consider a kitchen cart. These versatile units are designed to provide additional storage and workspace on wheels. Kitchen carts often feature shelves, drawers, and even towel racks. Additionally, many have a built-in butcher block or cutting board, perfect for meal prep. These carts can be wheeled out to the dining area for serving or used as a portable bar during gatherings. Kitchen carts are excellent options for smaller kitchens or those in need of flexible and multi-purpose solutions.
5. Double-Height Islands:
If you have a spacious kitchen and want to make a bold statement, a double-height island might be your perfect match. These islands feature an elevated portion that acts as a dining area or a raised bar, with the remainder serving as the primary workspace. By creating different levels, double-height islands add depth and visual interest to your kitchen design. The elevated portion can be used for quick meals or a place for guests to gather while keeping them separate from the cooking area. However, it's essential to ensure the overall height ratio is proportional to the space to avoid overwhelming the room.
Summary
Ultimately, the right kitchen island for your home depends on your unique needs and the available space. Whether you opt for a stationary island, portable unit, peninsula design, kitchen cart, or double-height island, each offers distinct advantages. Consider factors such as kitchen size, workflow, and aesthetic preferences when selecting the right island for you. With the perfect island, your kitchen will not only become more functional but also a stylish and inviting space that brings your home together.
Got Questions? Let Us Help!
Welcome to Covenant Woodworks! Established in 2003, Covenant Woodworks is a family-owned cabinet company located in Gainesville, Georgia and providing service to the surrounding areas. Whether new construction or remodeling, we make sure your project is finished according to schedule and is ready for you to move in! At Covenant Woodworks, our designs include cabinets, countertops, kitchen and bathroom remodeling, closets, custom hoods and vanities, offices, laundry and family rooms, and custom barn doors. Our team will offer you a blank slate for us to interpret your style and design. We work proactively to make sure your project is constructed and installed on time. Visit our website for more information, or give us a call today!