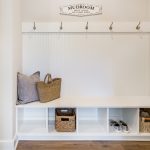 As the winter season approaches, it is essential to have a mudroom that is both cozy and functional. A mudroom serves as the barrier between the harsh elements of winter and the rest of your home, preventing dirt, snow, and slush from entering your living spaces. In this blog post, we will discuss the key components that would make a mudroom most functional for the winter weather.
1. Proper Flooring:
The first and foremost key component of a functional mudroom for winter is the flooring. Choosing a durable and easy-to-clean flooring option such as ceramic tile, vinyl, or laminate is crucial. These materials are resilient to water, mud, and snow, making them perfect for withstanding the winter weather. Additionally, placing a heavy-duty mat or rug at the entrance of the mudroom will help trap any excess dirt or moisture from shoes.
2. Ample Storage:
Winter comes with its own set of accessories like hats, scarves, gloves, and bulky coats. Ensuring your mudroom has ample storage for these items will not only keep your space organized but also make it more functional. Install cubbies, hooks, or open shelves to provide designated spaces for each family member to store their winter essentials. Including a bench with built-in storage underneath can serve as a comfortable seating area while also providing additional storage for boots or shoes.
3. Drying Rack:
Winter means wet and soggy clothes. Incorporating a drying rack in your mudroom will allow you to efficiently dry hats, gloves, and wet jackets without cluttering your other living areas. Whether it's a retractable rack or a simple hanging rod, having a designated area for drying winter garments will prevent them from dripping all over the house.
4. Heating Options:
Winter weather can be harsh, and having a cozy mudroom to retreat to is essential. Consider installing a radiant heating system or a heater to keep the space comfortably warm. This way, when you come in from the freezing temperatures, you have a place to thaw out and warm up before entering the rest of your home.
5. Organization and Cleaning Supplies:
Keeping your mudroom clutter-free will let you enter and exit the house with ease. Having designated spots for umbrellas, pet leashes, and bags will prevent mess and confusion. Additionally, keeping cleaning supplies like brooms, mops, and a vacuum handy in the mudroom will allow you to deal with any outdoor mess quickly and efficiently.
6. Pet-Friendly Features:
If you have furry friends, incorporating pet-friendly features in your mudroom is a must. Install low hooks for leashes, a designated area for food and water bowls, and even a pet washing station if space permits. This will help keep your pets' belongings organized and ensure that they are clean and dry before entering the main living areas.
Summary
A cozy and functional mudroom is essential for the winter season. By incorporating durable flooring, ample storage, a drying rack, heating options, organizational tools, and pet-friendly features, you can create a mudroom that not only keeps your home clean but also makes it easier to navigate the winter weather. Stay warm, organized, and stress-free this winter with a well-designed mudroom tailored to your needs.
Need Custom Woodworking in Gainesville, GA?
Welcome to Covenant Woodworks! Established in 2003, Covenant Woodworks is a family-owned cabinet company located in Gainesville, Georgia and providing service to the surrounding areas. Whether new construction or remodeling, we make sure your project is finished according to schedule and is ready for you to move in! At Covenant Woodworks, our designs include cabinets, countertops, kitchen and bathroom remodeling, closets, custom hoods and vanities, offices, laundry and family rooms, and custom barn doors. Our team will offer you a blank slate for us to interpret your style and design. We work proactively to make sure your project is constructed and installed on time. Visit our website for more information, or give us a call today!